CASCADE's final academic conference "The Democracy-Security Nexus in and around the Caucasus" took place on 20-21 October 2016 at the Université libre de Bruxelles (ULB) in Brussels and centred around the overall theme of the project itself – The Security-Democracy nexus in and around the Caucasus region.
The conference was organised by the CASCADE partners at the FMSH, the University of Birmingham, and the ULB and featured 11 panels with 36 paper presentations and up to 60 participants (including presenters, chairs and discussants). The conference was opened by Andrea Rea (Dean of the Faculty of Philosophy and Social Sciences at the ULB), Laure Delcour (Scientific coordinator of CASCADE project) and Derek Averre (University of Birmingham).
The conference aimed to re-examine the link between security and democratisation in the context of growing authoritarianism and new protest movements, as well as conflict transformation resulting from broader political upheavals in the wider neighbourhood.
This re-examination was informed by a combination of macro- and micro-approaches and the various panels represented at the conference mirrored well the true (academic) diversity of the CASCADE project itself. They ranged from Gender, Activism and the Role of Women in the Caucasus; Migration and Mobilities in and out of the Caucasus; Modernisation and Development; Civil Society; to Conflict and Violence; War Veterans; Religion and Domestic Regimes; Cleavages and Cooperation as well as Caucasus in Comparative Perspective.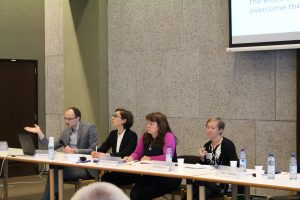 The conference was attended by up to 200 people. Closing remarks were given by Laure Delcour and Nino Kemoklidze.
Find more photos in our Photo Gallery.