New book on the Armenian state building through Nagorno-Karabakh conflict by CASCADE Researcher Taline Papazian, in Karthala, 2016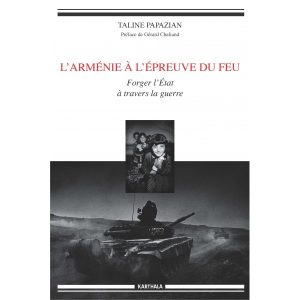 For more than 25 years Armenia and Azerbaijan have been conflicting over a small mountainous enclave called Nagorno-Karabakh. When early Soviet leaders decided to place this mostly Armenian populated region within the territory of neighbouring Azerbaijan they unwillingly triggered a time-bomb that started ticking in the last years of the USSR: as soon as national movements stirred the Soviet Union, Armenian claims for reunification with Nagorno-Karabakh stood at the forefront of the empire-wide tides. But whereas the USSR was slowly breaking down, the Karabakh question exploded.
Puzzling as may seem, this book demonstrates how war has provided military, political and ideological resources to the building of the Armenian state. A cease-fire, reached in 1994, has by and large contained the conflict, yet still very much alive as the resurgence of war in April 2016 amply evidenced. Paradoxically, the stabilisation of the cease-fire in the mid-2000's has coincided with growing threats against the permanence of the Armenian state, this time of another, more insidious, kind. In open warfare, as much as in the absence of peace, Armenia has been subjected to the trial of fire. After winning the first round, the task of consolidating the state as an instrument of governance rather than of war will be the real token of success.
The Karabakh conflict and its inherent relations with the hazards of the Armenian state in the contemporary period find their place in the long-term history of nationalisms in Southern Europe since the early 20th century, at the crossroads of European, American, Russian and Turkish diverging interests. A regional political crisis with international consequences the settlement of which is constantly deferred, the Karabakh conflict encapsulates all contemporary geopolitical challenges of the former Soviet area: thanks to it, Moscow successfully clings on the role of arbitrator in the dispute between Armenia and Azerbaijan and of game master in the whole South Caucasus. Nagorno-Karabakh shares features with other ethno-territorial conflicts inherited from the USSR. Nevertheless, its geostrategic scope reaches much further, being the key to an eventual new deal in geopolitical relations between the three South Caucasian states (Armenia, Azerbaijan and Georgia) and their international partners: the European Union, the United States, Russia, Turkey and Iran.
Find more information on the book.